Dedicated Shopper Pricing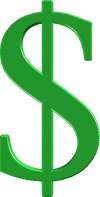 Our pricing model is simple. There are no hidden fees, inflated prices or membership fees you often get with other delivery services. We can also provide you with specialty items that typically are not available through other services, such as postage stamps, greeting cards, gift cards, magazines, etc.
[1] Our flat rate includes shopping at a single store for an average shopping cart of items. Have a larger order or need us to make additional stops? No problem. We'll let you know of any surcharges at the time you place your order.
[2] If you live outside any of our delivery cities and would like to use our service, give us a call and we'll let you know if we can accomodate you, and inform you of any surcharges.
[3] You can also email, text or fax your list if that is your communication preference. We will contact you in the same manner to clarify any ambiguities.
[4] We typically schedule a delivery window of one hour, but this can change depending on unforeseeable circumstances.
[5] We gladly accept cash, personal check or Zelle® as payment. We reserve the right to add a surcharge for credit cards, PayPal® and any other forms of payment that charge us fees.